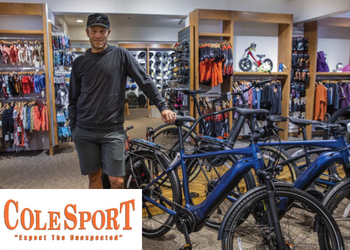 If you want to see Adam Cole's face light up, get him talking about joining with others to help Parkites in need. Year after year, Cole Sport is there for the Walk to End Alzheimers, the Hike for Hunger, the National Ability Center's Summit Challenge and Kids Bike to School Day.
"We co-host the Back Alley Bash for KPCW and the 4th of July 5k Fun Run for Park City Ski and Snowboard,' Adam says. "We've done it for more than 35 years."  Come November, Cole Sport will be part of Live PC Give PC, an annual fundraising day for nonprofits.
Adam and his brother Jason were brought up believing that giving back should come as naturally as snowfall for local businesses. They share childhood memories of helping with Earth Day activities at the Park City sporting equipment store their parents, Gary and Jana, opened in 1982.
"We were raised to see the value in coming together on things that matter more than oneself," Adam said. "My parents have always supported the nonprofits in Park City, a passion that's part of the Cole Sports culture."
With locations around Park City, Cole Sport has thrived for decades on their values of service, quality, respect and honesty. Their rock-solid reputation helped them survive COVID, and the Coles responded characteristically. "We decided we were fortunate to prosper thru the pandemic, so we asked our 16 managers to choose a nonprofit to donate money to with Cole Sport funds," Adam said. "We felt our good fortune positioned us to give even more to those in need."
After almost 40 years in business, Adam, Jason and Cole Sports continue to elevate their game and their giving.  Their goal? "We strive to be better every year while learning, growing and adapting," Adam said.