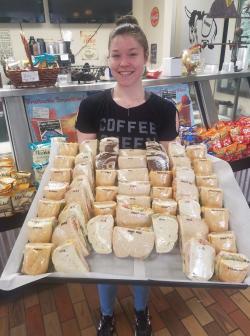 "Our clients get more than a good meal at our stores," says Ben Farquharson, owner of Clockwork Café's two locations. Ben gives a warm PC welcome and helpful info to visitors who flock to his homemade sandwiches, soups, and "our badass coffee."  
Since opening in 2004, Ben's community café has consistently shown what a locally-focused, environmentally responsible business looks like. "We source our bread from SLC, our turkey from Southern Utah and most of our beef from northern Utah," Ben says. In addition, clockwork is switching to solar and recycles all plastics, glass and aluminum. "We combine our paper goods with compostables for processing at a local farm," he adds. "Conservation needs to be on everyone's mind."
A Californian, Ben discovered Park City visiting his father-in-law in 1998. "Transitioning with children made me realize how important home and community are," he adds. He soon found  PC's helpful neighbors and caring businesses were "my kind of people. Everyone here has purpose, and they are such an eclectic mix," he laughs
Ben finds mentoring young people in the culinary arts one of his favorite ways to give back. "If they are motivated, we support them in their journey and help find a more formal kitchen placement," he says.
"To be a Parkite means honoring my community," Ben believes. "Places like the Peace House and Park City Mountain Bike team look to us for alternatives to mass-produced foods. For all Parkites, I create an alternative to having to settle for low-quality meals."
Not to mention that badass coffee! 
Check out Ben's Clockwork Cafes on Business Park Road and Bonanza Drive any Monday through Friday from 7 a.m. to 3 p.m.