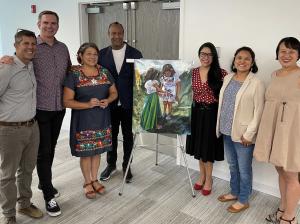 How much difference can just one person make in Park City? You might think that's unanswerable, but only if you haven't met Dr. Rob Harter of the Christian Center of Park City. Since 2010, Rob has directed the doubling of Center services, which now include three thrift stores, two food pantries, a fully staffed counseling center, two campuses, and programs that meet every person at their point of need, focusing primarily on Wasatch and Summit counties.
"We want to help everyone not just survive, but thrive," says Rob, who finds time to serve on multiple community boards, including the Park City Chamber/Bureau and the Utah Nonprofits Association. You will also catch him hosting his Nonprofit Leadership podcast, plus, "I have an incredible wife and am dad to three amazing girls." Leah Harter serves as director of counseling at PCCP.
Rob's Indiana roots couldn't withstand the call of the mountains, which drew him to Park City in 2010 after a stint in Boulder. "I dreamed of changing the world," he says of his early mountain days. "I realized that's naïve, so I work on changing the world for one person or one community."
Whether hiking, skiing, boosting other nonprofits or empowering his staff of 64, "I want to make a positive difference," Rob says. "Living in Park City is a great fit for me because we are a highly collaborative community, genuinely supportive of all."
"People not only love it here, they are also invested," he adds.
We're fortunate to have Rob's incredible energy and dedication serving our most needy residents.  You can get in the CCPC spirit, too. Just volunteer or donate at ccofpc.org.