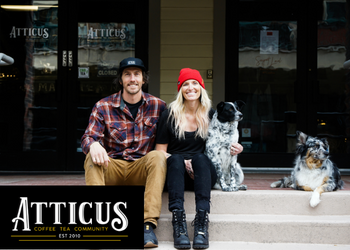 Step into Atticus – the coffee and tea community with a literary theme - for a total sensory treat. Tall shelves filled with Atticus-branded sweets and teas give way to a hand-drawn menu of diverse coffees, all infused with the aroma of delicious food. Toward the back, a curated selection of books and western art complements comfortable seating for sipping and chatting, framed by a picture window overlooking Main Street. Like Park City itself, it's refreshing yet relaxing. It's no surprise co-owners Randy and Erica Winzeler are long-time Parkites, though they met as river guides at Dinosaur National Monument. "We're big outdoor enthusiasts," Randy understates.
"Our priority is treating everyone like family, keeping our literary legends alive and serving up delicious, affordable products," Erica says. "I'm proud to see so many of our crew become Parkites and go on to blossom in the world! That's my greatest joy," she adds.
Erica's sense of family is the story behind the Atticus name. Her mother hoped to open a bookstore and tea house named for Atticus Finch of To Kill a Mockingbird, but never found the opportunity. In 2010, she and Randy fused that dream with their own, and Atticus was born. 
Their family feeling also extends to Park City's nonprofit community. The couple have donated more than $75,000 over the years, choosing a different nonprofit each month. "It's all about supporting one another – we reciprocate the love and keep the local vibe alive," Erika said.
Stop in to enjoy a refreshing Atticus snack and say hello to Randy and Erica, two thoughtful, dedicated Parkites living their best lives while making PC better, unique and always interesting.