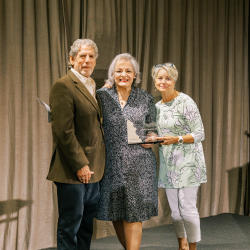 An unforgettable highlight of our Annual Meeting at The Pendry was recognizing Tina Lewis for 50 years of improving Park City. Tina's vision foresaw many unique features that today make Park City, well, Park City. She was an initiator of signature events like Miners Day and Autumn Aloft while steering the early development of our library and saving the Miners Hospital. We see the 'Tina touch' up and down Main in everything from the streetlights to the Historical Society and Museum. A former city council member, she even designed the city logo. Having brought forth so much good in our community, it was fitting that Tina received the Myles Rademan Spirit of Hospitality Award on August 30  - her birthday.
Taking the initiative like Tina is fundamental to Park City's character. In that spirit, I was proud to announce at the meeting revolutionary news - a Chamber-sponsored comprehensive health insurance package designed for our nearly 1,000 members and their 14,000 employees. Affordable healthcare insurance has been out of reach for many Park City small businesses. We're setting out to change that with access to quality coverage options, even for employers with as few as two employees.
Joining forces with the Heber Valley Chamber and local insurance experts, we have negotiated favorable terms and flexible, competitive rates. For example, medical coverage has five levels of deductions, co-pays, out-of-pocket costs, and prescription coverage to accommodate a wide range of company and worker budgets. The dental plan offers high, mid, and low-range choices. The vision plan is administered by a comprehensive network of national chains, regional chains, and independent optometry practices and includes coverage for eye strain products and refractive surgery. There is no open enrollment period; partners can join at any time. Eligibility is straightforward – employers must be members of the Chamber and have at least two full-time employees who will enroll. The exact cost and carrier options will depend on each company's specifics.
In addition to quality, ease of access, flexibility, and affordability, we're presenting a truly comprehensive package, including critical illness and accident insurance and hospital indemnity. The program even offers life insurance and an identity/ fraud protection option. 
This array of coverage options reflects the Chamber's belief that high-quality health insurance makes employees healthier, happier, and more productive. Comprehensive benefits also make employment significantly more attractive for small businesses, easing the struggle to find and keep staff.
The Chamber Board, as far-sighted a group of civic-minded volunteers as you will find anywhere, was fully supportive during months of behind-the-scenes work leading up to our announcement, as were my Heber Valley Chamber colleagues and their Board – true community leaders. The staff of both organizations and the helpful local insurance experts also deserve our deepest thanks for their diligence. I know they join me in the firm belief that we have taken a bold step, addressing a pressing need that will benefit the entire Wasatch Back community. I urge all Chamber partners to review the details and take the next step to cover you, your family, and employees at www.visitparkcity.com/members/resources