Cyclists have a long-standing belief about how many bikes you need to have in your garage, as described in a mathematical expression: "n+1." Whereas, "n" represents the number of bikes you currently have at your disposal, plus 1, since however many bikes you currently have, you always need one more. Needless to say, having been a competitive cyclist myself for over 30 years across many cycling disciplines, from road to mountain bike to cyclocross, I have never needed much convincing to periodically increase my stable. I have always had an ease about buying into n+1 logic, until fairly recently, with the advent and current growth of Gravel riding. Now I can't help but think you only really need one. After all, you can only ride one bike at a time, right? The thing is, I have so many colleagues in the cult of the cycle who have garages full of bikes they don't ride any longer. Why is this? We might have to change the equation to n-1. This is because a great Gravel bike does so many things well. And now this is where the logic starts to go circular. We might get lost in this discussion and that is perfectly ok. Argue with me about this.
Maybe before we argue, we should spend some time to explore what gravel is. Yes, the rumors are true: gravel is tiny rocks, but it's also a state of mind. Gravel is dirt roads. Fancy bike people even have a word for that now: Groads. I still can't get myself to say it. The truth is, you can ride gravel and dirt roads on a road bike, or a mountain bike, or any bike. Maybe instead of a rhetorical exploration of what Gravel is, we should simply explore, because that is, in essence, what gravel riding is. Exploring. Hmmm. I like it. We are getting warmed up. We are going somewhere. It seems Gravel might be a metaphysical concept as well as a physical action you do, and anytime you combine an element of mysticism with physical activity, mathematical equations start to break down.
Gravel is a belief system for cyclists that with the right bike, you can never be on the wrong bike. Gravel is about reinventing your daily ride, where the road, paved bike path, dirt double track, and twisty single track trail can all be melted down into one amalgam. It's freaking alchemy on two wheels, pure gold. But it's not a Hybrid. That is a dirty word that means one bike that does a bunch of things not very well, whereas gravel means one bike that does a variety of things exceptionally well, making it the exact opposite of hybrid. It's adventure without having to go anywhere special if that's what you want, but it's also a way to go places, as seen by the growing niche of bike packing gear that allows you to pack up the bare lightweight essentials and get out there as far as you want to go. There is also gravel racing, with events you have probably heard of like the DK200 (Dirty Kanza, but they have changed the name recently) in the Flint Hills of Kansas, or the Crusher in the Tushar, a monster of a race down near Beaver, Utah, near Eagle Point ski area.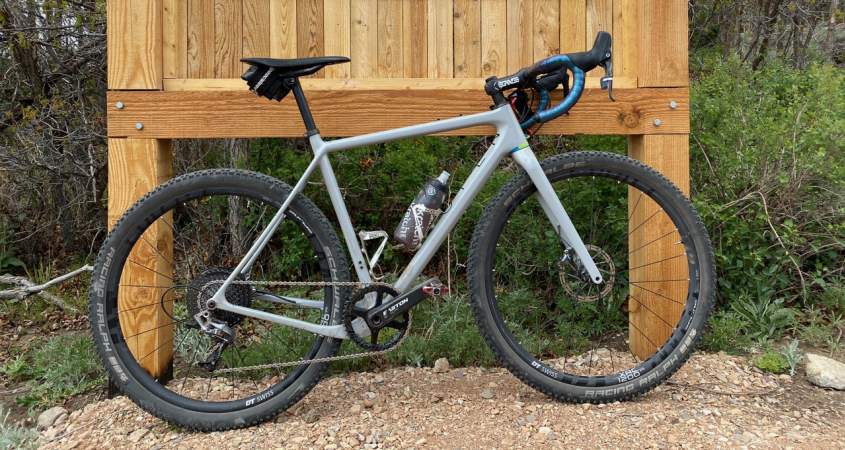 With all the Gravel-As-A-State-Of-Mind discussion behind us, we still haven't discussed what actually makes a bike a Gravel bike. Every painter needs brushes, but not everyone who buys paintbrushes is a painter. But you, Picasso, are going to produce great works of cycling art with gravel and dirt roads as your canvas. A great Gravel bike will be lightweight like a road bike, not burdened with the weight of suspension (although there are some out there with suspension, I say avoid them, with very few exceptions). In fact, if you were spotting one leaned up against a cattle fence way up high at the top of Soapstone Basin from far away, you might mistake the shape and form for a road bike and think to yourself, what the heck is that doing up here in these rugged parts. Mostly because they have curly handlebars. Gravel bikes will have ample tire clearance for at least 40 c tires (a width measurement, approximately 40 cm wide when inflated). A great gravel bike is going to have high-quality hydraulic disc brakes, just like your newer generation mountain bike. Some popular bike brands allow you to use 700 c wheels (standard road size) as well as 650b (or 27.5, a popular mountain bike wheel size). With the smaller diameter 650b wheels, you can then mount 27.5" mountain bike tires. For the sake of this Rant-ifesto, 650b and 27.5" are essentially the same thing. I run this set-up on my OPEN, and I call them Party Wheels, and the bike is extremely capable of riding twisty and smooth single-track such as the trails you might find in Round Valley. When it comes to gears and shifting, there are a couple of schools of thought. One school of thought is to run a wide-range mountain bike style cassette in the rear, with a single chainring upfront, or 1x, or "One By." Simple. Light. Aesthetically pleasing. Another school of thought is to run a double chainring upfront as you likely would do on a road bike or a "Two By." I have done both, and I like both for different reasons. It will be a personal choice, and there is no wrong answer.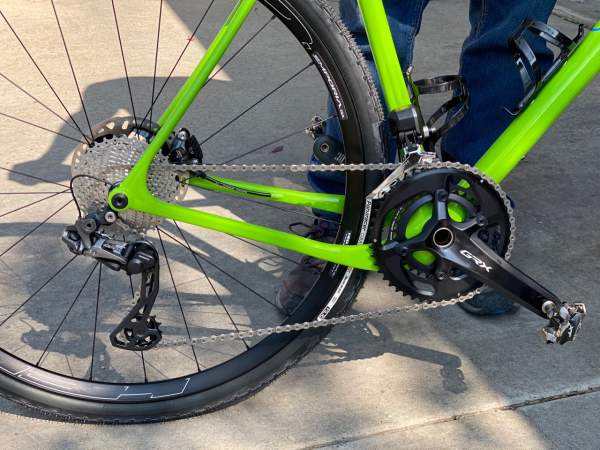 Whether you approach things from an analytical perspective or an artist's perspective, Einstein or Picasso, it's time to get a gravel bike.
Here are some of my suggestions of what to start looking at, with Pros and Cons, which can be found at local Park City-area shops:
OPEN U.P.
1. OPEN U.P.
The OPEN U.P. is certainly not the first Gravel bike, but in my mind, I think of it as the original candidate that will make you think if you only had one bike, it would be this bike. The founders of OPEN had previously started Cervelo Cycles, and they believed in the OPEN U.P. so much, they started a company that only made one bike. Of course, that didn't last long and now they have variants, as well as an MTB hardtail. They offer the U.P.P.E.R., which a higher-priced/lighter-weight version (remember, with bikes, the more money you pay, theses weight you get). Their newest gravel bike is the WI.DE, and they even have a road bike now, which may be nice, but seems utterly silly when considering how versatile the original U.P. is.
PROS: Light, accommodates both/either 650b and/or 700c wheels, available in iconic colors as well as unpainted (go for it, Picasso).
CONS: None.
WHERE TO BUY: Contender Bicycles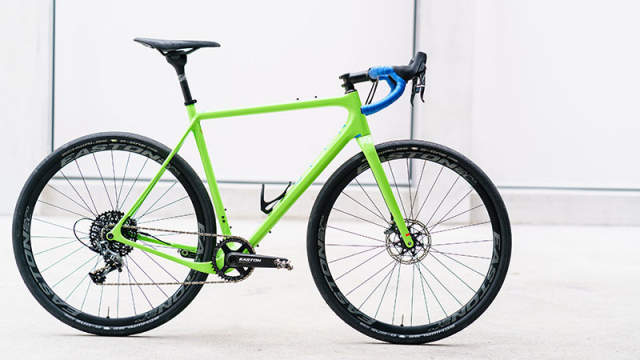 TREK Checkpoint
2. TREK Checkpoint
For a long time, I chose to use a cyclocross racing bike as my Gravel bike. I liked the racier geometry and sharper handling, but the biggest problem was not having enough tire clearance to mount any tire wider than 35 c, and that, in my opinion, is a limitation. TREK's Boone models are the BEST cyclocross race bikes I've ever owned, but until they released the Checkpoint, I always wished for more tire clearance. The Checkpoint solves this with massive tire clearance, and TREK's patented Decoupler frame design, which allows the rear triangle of the bike to flex and pivot on a bolt and bearing set up at the junction with the seat tube. I wouldn't call it suspension, but it smooths out washboards and bumps that might otherwise drive you crazy. Checkpoint models also have some hidden fittings for fenders and racks, which you might need if you were going to use it for bike packing adventures. Storm Cycles in Park City had demo bikes available at the time of writing this, so you could actually swing your leg over one and take it for an extended test ride.
PROS: Smooth ride due to Trek-patented decoupler. Rack and fender mounts. A wide range of price points.
CONS: Not the lightest compared to racier models.
WHERE TO BUY: Storm Cycles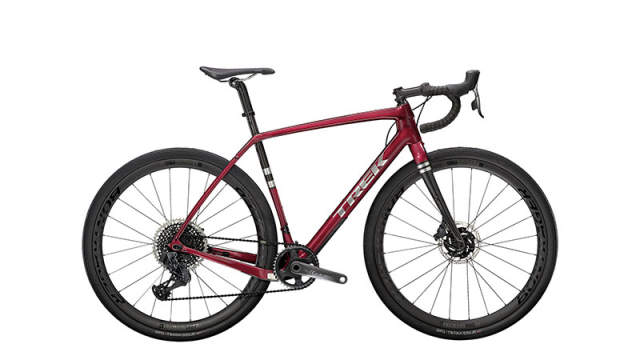 Specialized Diverge Comp Carbon
Specialized Diverge Comp Carbon
The flagship Gravel machine in the Specialized lineup is the Diverge family of bikes, with many models ranging is parts, wheels, and of course, price. Remember when I previously said stay away from Gravel bikes with suspension? The Diverge family of Gravel bikes hides a 20mm damper (shock) in the head tube of the bike, which as they claim, "suspends the rider, not the bike." I give this bike high marks for aesthetics, and also for being able to run 700c or 650b wheels (Party Wheels).
PROS: 20mm of hidden front suspension, accommodates both/either 650b and/or 700c wheels.
CONS: 20mm of hidden front suspension. Listed as both a pro and con because it's one more thing to maintain.
WHERE TO BUY: White Pine Touring